Electrical Panel Upgrades
Electrical Panel Repair, Replacement, and Upgrades.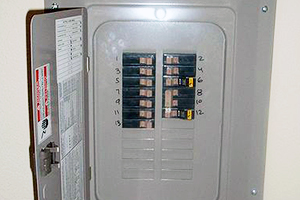 Electrical panels are an extremely important piece of equipment for any home. The electrical panel, in short, controls the electricity coming into a home. As you add electrical appliances and circuits, you increase the demand on your electrical panel. If the demand grows too large issues can begin to arise with your electrical panel. Fortunately, our trusted team of electricians at All Main Power are ready to help fix all of your electrical panel problems.
Electrical Panel Repair in London
Having an electrical panel repair done will ensure that your home is always powered up quick and safe. Issues with your breaker panel should be addressed right away in order to avoid serious potential dangers later down the road. Even though some problems with your home's electrical panel could seem small to you, they could actually be a sign of a much larger issue with your electrical panel. If ignored for too long these problems could lead to a fire or an electrical shock. A simple electrical panel repair can be done in a few hours, while more extensive repairs can take up to a full day or more. Regardless of the size of your problem, you can rest assured that our master electricians have the knowledge and skills to get the job done.
Electrical Panel Replacement
Depending on when your home was built and how much electricity you use, you may be in need of an electrical panel replacement or at the very least have a sub-panel added to help keep up with the electrical demands of a modern day home. If you've recently purchased an older home or office space or in a need of additional capacity (more amperage), and depending on the size of the household or office space, and the upgrades you are planning to make, our electricians will be able to tell you whether or not your existing panel will suffice, or if it needs to be upgraded.